Saturday, April 25, 2015
Just found this weird photographic print, some kind of lab-glass flapper erotica printed on stationery, so probably a litho(?) - tucked in between the leaves of a 1925 collection of panel cartoons by Ellison Hoover. I googled the signature "A.F. Kales" and I guess he was a Hollywood still photographer from that period...
Time Period: 1910s-1936
Location: California

"Arthur Kales (1882-1936), a prolific American pictorialist photographer during the 1920s. Pictorialist photographers believed that photographs should emulate the formal elements of etchings or paintings. Pictorialists renounced the sharp accuracy of a photographic image, thus the film was subdued by soft focus and other photographic techniques. The photographers often planned the picture's scenarios, much like a painter composes a painting. Arthur Kales joined this movement while he was in his late 20s. Born in Arizona in 1882, Arthur Kales moved to California in 1903 where he remained for the rest of his life. Initially pursuing a law degree, Kales found photography instead. By 1918, Kales was deeply committed to the popular Los Angeles pictorialist movement. By 1922 he was a regular essayist for the journal, Photogram of the Year. In 1928, Kales was awarded a fellowship from the United Kingdom's Royal Photographic Society and was given a fifty-print retrospective by the Smithsonian Institution in Washington D.C. Despite his vast repertoire of subject, matter, his work can be identified by his ethereal yet exquisitely intricate compositions."
Tom Christie found this
[Female Nude with Bottles]
on
page 12 of the Getty's collection of Kales
: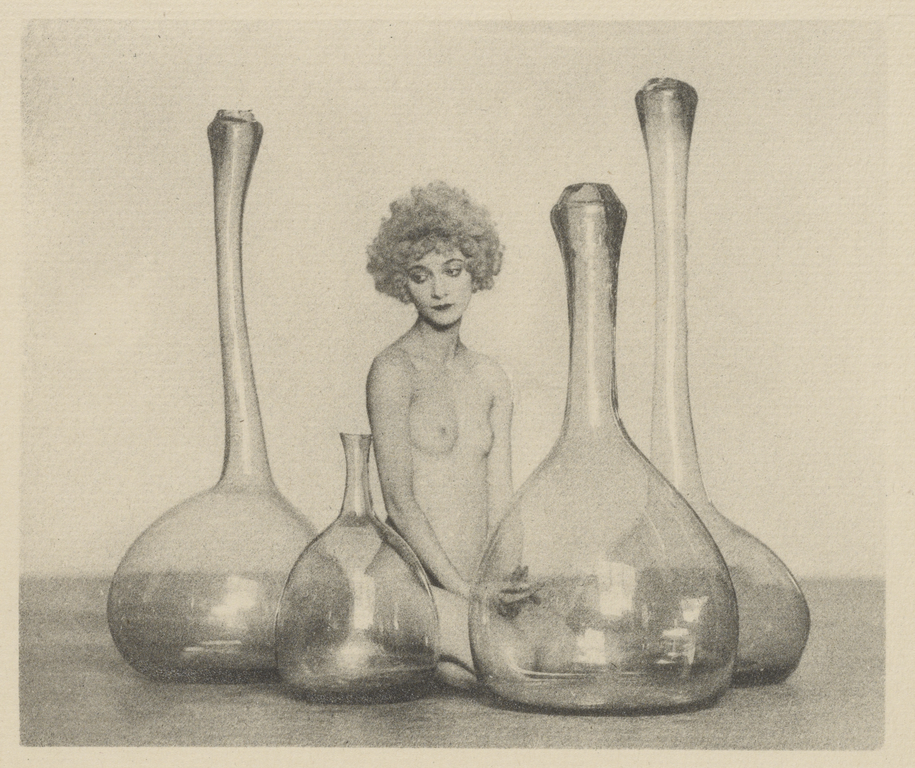 Model is silent film actress Marguerite de la Motte, circa 1920. From Wikipedia:
Marguerite De La Motte (June 22, 1902 – March 10, 1950) was an American film actress, most notably of the silent film era. Born in Duluth, Minnesota, De La Motte was the daughter of Mr. and Mrs. Joseph De La Motte. She was a 1917 graduate of the Egan School of drama, music, and dancing.
De La Motte began her entertainment career studying ballet under Anna Pavlova. In 1919, she became the dance star of Sid Grauman on the stage of his theater. In 1918, at the age of 16, she made her screen debut in the Douglas Fairbanks, Sr directed romantic comedy film Arizona. In 1920, both of her parents died, her mother in January in an automobile accident and her father in August from heart disease. Film producer J.L. Frothingham assumed guardianship of her and her younger brother.
De La Motte in 1921.
De La Motte spent the 1920s appearing in numerous films, often cast by Douglas Fairbanks, Sr. to play opposite him in swashbuckling adventure films such as 1920's The Mark of Zorro and The Three Musketeers. She developed a close friendship with Fairbanks and his wife, actress Mary Pickford. Her career as an actress slowed dramatically at the end of the silent film era of the 1920s. She did continue acting in bit parts through the sound era and made her final appearance in the 1942 film Overland Mail opposite both Noah Beery, Sr. and Noah Beery, Jr., as well as Lon Chaney, Jr.
De La Motte was married twice. She first wed silent film actor John Bowers in 1924, who was then a matinee idol of the silver screen. The couple were separated at the time when Bowers committed suicide in 1936. De La Motte later married attorney Sidney H. Rivkin whom she later divorced after four years of marriage. Her cousin, Clete Roberts, was an American war correspondent and journalist, who appeared in two episodes of the television series M*A*S*H* in the 1970s.
After her film career ended, De La Motte worked as an inspector in a southern California war plant during World War II. Later she came to San Francisco, California, where she worked in the Red Cross office.
On March 10, 1950, De La Motte died of cerebral thrombosis in San Francisco, three months short of her 48th birthday. On February 8, 1960, De La Motte was awarded a star in the Motion Pictures section of the Hollywood Walk of Fame at 6902 Hollywood Blvd., in Hollywood, California.
Turns out it was created using the Bromoil print process, which begs the question "What the hell is the Bromoil print process?" God bless you, wikipedia!
Oil print process
The oil print process is a photographic printmaking process that dates back to the mid 19th century. Oil prints are made on paper on which a thick gelatin layer has been sensitized to light using dichromate salts. After the paper is exposed to light through a negative, the gelatin emulsion is treated in such a way that highly exposed areas take up an oil-based paint, forming the photographic image.
A significant drawback to the oil print process is that it requires the negative to be the same size as the final print because the medium isn't sensitive enough to light to make use of an enlarger. A subtype of the oil print process, the bromoil process, was developed in the early 20th century to solve this problem.
The oil print and bromoil processes create soft images reminiscent of paint or pastels but with the distinctive indexicality of a photograph. For this reason, they were popular with the Pictorialists during the first half of the twentieth century. The painterly qualities of the prints continue to appeal to artists and have recently led some contemporary art photographers to take up these processes again.
The origins of the oil print process go back to experiments by Alphonse Louis Poitevin with bichromated gelatin in the 1850s.
To make an oil print, a piece of paper is coated with a thick gelatin layer containing dichromate salts that sensitize it to light. A contact print is made by laying a negative over the paper and exposing it to light, which leads to hardening of the dichromated gelatin in proportion to the amount of light that reaches the paper. After exposure, the print is soaked in water and the non-hardened areas absorb more water than the hardened parts. The sponge-dried but still moist paper is then inked with an oil-based ink, which sticks preferentially to the hardened (drier) areas. The result is a positive image in the color of the ink. As with other forms of printmaking, the ink application requires considerable skill, and no two prints are identical.
Multicolor oil prints are possible through local inking of the print, and it is also possible to create reverse prints by contact-printing the wet oil print to a piece of plain paper. Artists have also sometimes created variations by applying extra paint using brushes. In the later 19th century, it was possible to buy commercially prepared gelatin-coated paper.

Bromoil process

The bromoil process is a variation on the oil print process that allows for enlargements. In 1907, E.J. Wall described how it should theoretically be possible to place a negative in an enlarger to produce a larger silver bromide positive, which would then be bleached, hardened, and inked following the oil print process. That same year C. Welborne Piper worked out the practical details. Much as Wall envisioned it, the bromoil process starts with a normally developed print exposed onto a silver-bromide paper that is then chemically bleached, hardened, and fixed. When the still-moist print is inked, the hardest (driest) areas take up the most ink while the wettest areas become the highlights.

An issue with the bromoil process is that inadequate rinsing of the chrome salts can lead to discoloration of the prints when exposed to light over long periods of time. In addition, irregularities in the thickness of the gelatin layer can, under unfavorable conditions, lead to stresses that damage the pictorial (ink) layer.

Posted by

DougH
at 12:16 PM
No comments:


Wednesday, April 15, 2015